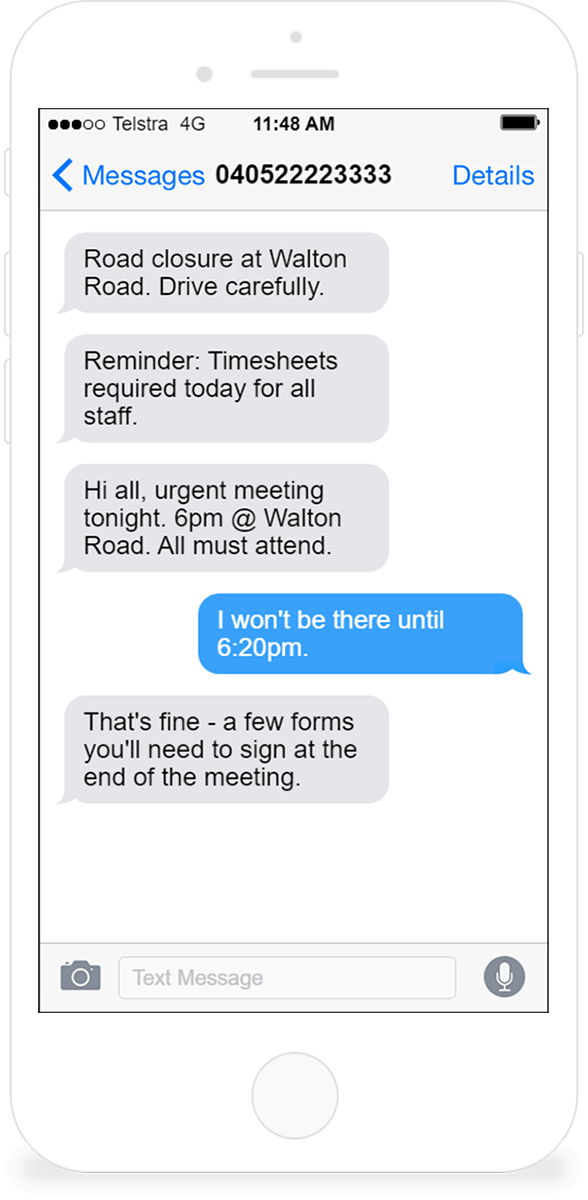 Appointment & Event Reminders via SMS
Ping mobiles in a low-touch, highly effective way
Reach the mobile within 30 seconds
Opened within 3 minutes1
Appears as a normal SMS
Receive replies back to confirm receipt
Work faster, work smarter
Stop calling mobiles manually; send text messages efficiently through TNZ SMS.
Automated text reminders from your existing system.
Send Text Reminders via Email
Your email is converted into a text message, easy as that!
The mobile sees a normal text message, optionally showing your business name as the sender.
Any received replies come back via email.
See Email to Text for more details.
Connect your system via API
Integrate SMS into your existing software platforms.
Your applications can deliver SMS data to us via HTTP/S POST, SOAP and JSON/XML Rest APIs.
The platform allows for flexible reporting - capture delivery reports and replies via email or via a webhook.
See SMS APIs for more details.
An unintrusive reminder
Phone calls are interruptive and emails are often missed
Quietly nudge mobiles using a simple text reminder
Send your confirmation web page
Insert your confirmation page with text reminders.
Customers can click the link on their smart phones to confirm their appointments.
Track confirmations & responses
Set your dedicated mobile number as the sender
Mobiles will be able to reply to your reminder, confirming or asking a question
Options available for automatically tracking responses
Message Personalisation
Send bulk reminders at once with personalisation (adding a person's names, appointment times and other personal details) and emojis
Your own dedicated contact number
Optionally set up your own contact mobile number
Your reminders will show this number as the sending Caller ID
Recipients can reply back, or get in touch with you at any time using their mobile
See AU Mobile Numbers for more details.
Schedule Reminders
Pre-load reminders for sending at a later date and time
Specify the exact date and time the message should be received
Automate Repeating Reminders
Load reminders to automatically resend
Options for hourly, daily, weekly, monthly and annually
Send reminders to individual mobile numbers, Address Book contacts and entire groups
Sending Reminders via SMS
Send a reminder to one mobile
Uses the Email to SMS method
Enter the mobile number into the To, followed by @sms.tnz.com.au
The text message goes in the email body
---
Send a reminder to a group of mobiles
Uses the SMS Web Dashboard method
Load your text message using the online dashboard
Upload your list of mobile numbers
Set the send time
---
Automate Reminders from your Calendar
Configure reminder settings for Email and SMS
Sync other calendars with the TNZ Calendar
The Calendar will automatically send event reminders
Pricing
$0.06/SMS Part1
$20 per month
Customized Sender2
Reply (Two-Way) support
Personalisation & Emojis
MMS support3
Volume Discounts
1 Pricing is AUD excl GST to Australian Mobiles
$0.20 /SMS International
2 Options for Dedicated AU Numbers
3 $0.40 /MMS to Australian Mobiles
Request A Free Trial