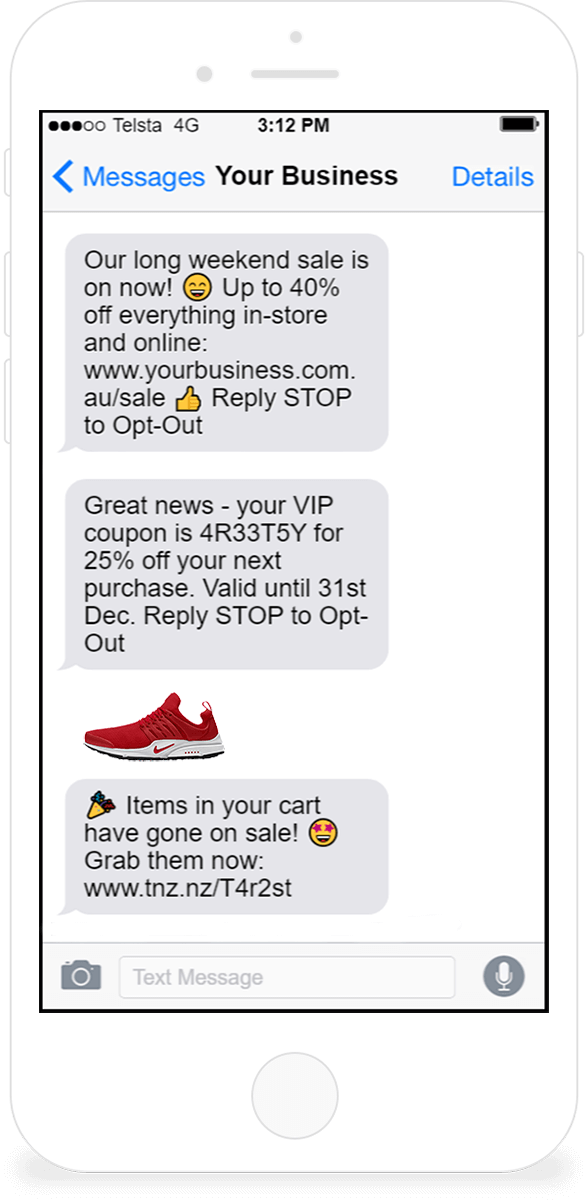 Use your business name as the sender
Include personalisation and emojis
Handle opt-outs/unsubscribes
Include coupons and spot-deals
Add pictures (MMS/PXT)
Send unique, trackable short links
Recipients can reply (not supported with custom sender)
Personalise your Messaging
Enhance your campaign's effectiveness by increasing relevance
Use SMS personalisation, send pictures and include emojis
Opt-Out & Replies
Handle opt-out / unsubscribe requests using our online dashboard tools
Replies supported for both unsubscribes and general questions
Track Response Rates
Understand how many users are receiving, responding and opting-out of campaigns
Quick Coupons Inside SMS Messages
Drive sales with a hot-link in your messages
Fully tracked; view which links are clicked
Cloud Hosted SMS Gateway
A totally online service, no special software needed
Manage the service using an intuitive online dashboard
Built for Australian Businesses
An Australian hosted service designed for Australian businesses
We understand your requirements!
Speedy Registration
No lengthly registration process
Sign-up online and start sending!
Wholesale, Agencies & Partners
Reselling a marketing service? Our wholesale channel will work for you!
Whitelabelling and discount pricing available
Sending a Marketing SMS
1. Load your text message using the online dashboard
2. Upload your list of mobile numbers
3. Set the send time
4. Click Send!
Pricing
$0.06/SMS Part1
$20 per month
Customized Sender2
Opt-Out & Reply support
Personalisation & Emojis
MMS support3
Volume Discounts
1 Pricing is AUD excl GST to Australian Mobiles
$0.20 /SMS International
2 Options for Dedicated AU Numbers
3 $0.40 /MMS to Australian Mobiles
Request A Free Trial